---
In the spring of 1775 as the British pushed north into what was formerly known as French Territory, Governer-General Vaudviel anticipated an attack on the French settlements in the Champlain Valley. To prevent this from happening, the Governer-General hired Michael Chartier to begin constructing a fort that would protect the valley. The fort was to be built between Lake Champlain and Lake George. Construction began in the fall of that year and wasn't completed until nearly two summers later.

The new fort, which the French called Carillon, was a star shaped building with wooden walls that were filled with dried mud. It was then covered with stone quarried from a nearby valley. Inside the fort were several buildings including barracks, which could hold up to 400 men, and a large powder magazine.


---
A bird's eye view of Fort Ticonderoga
---
In 1757 French General Montcalm used Fort Carillon as a base for his siege of Fort William Henry. Although the French won the battle they had little time to celebrate, for only a few months later British General Abercromby led an army of 16,000 British troops north towards Carillon. After seeing the invading British, the French army of 3,500 blew up the magazine and fled the Fort. General Abercromby then took over the fort, rebuilt the magazine, and renamed it Fort Ticonderoga meaning land between two waters.
The British only kept hold of the fort for a few months. Soon after, a band of green mountain boys lead by Ethan Allen siezed the fort on the night of May tenth. The British gave up without a single shot being fired.


---
TEN COMMON QUESTIONIONS ABOUT FORT TICONDEROGA
See 4 cool Fort Ticonderoga Pictures!
---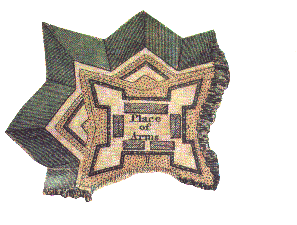 An overhead view of the fort and it's demi - lunes